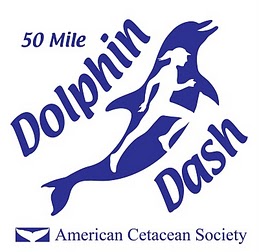 Tomorrow is the big day for the Dolphin Dash! Cheryl McCormick, executive director of ACS, will be running "a grueling 50 miles" starting at 5:30 a.m. And I will be there to catch it all on video tape and/or camera and post updates to facebook and Cheryl's blog. So if you want to follow along join the American Cetacean Society-National's facebook page or check out Cheryl's blog.
This is a crazy and inspiring way to raise funds for a super important cause. As Cheryl explains the purpose of the run is "to raise funds to attend and increase awareness of the International Whaling Commission (IWC) meetings in Agadir, Morocco this month. Critical decisions are being made – a package that will be voted upon by IWC participating nations in this session would lift the ban on commercial whaling if approved."
Cheryl is actually flying out the very next day to attend the IWC meeting and voice support for whale conservation. Help fund her trip and save the whales by donating now! Make her run worthwhile by clicking here. And keep your fingers crossed that technology will work in my favor tomorrow!