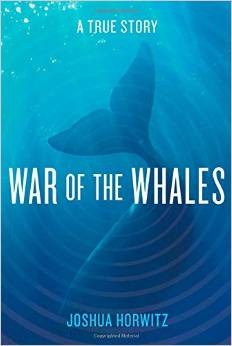 It's that time of year when bookstores everywhere showcase "summer reading" options. But take a pass on the books touted as easy reading and pick up "War of the Whales" by Joshua Horwitz instead. Just released on July 1, 2014 by Simon & Schuster, this book takes you behind-the-scenes during the battle to protect whales from Navy sonar.
The book opens with marine biologist Ken Balcomb giving an orientation to Earthwatch Institute volunteers who have just arrived on Abaco Island in the Bahamas to help with a photo-identification survey of beaked whales. As Balcomb is managing volunteers' expectations about whale sightings and fielding questions about sharks, suddenly his research assistant rushes in and announces, "There's a whale on the beach."
Everyone runs out to discover a Cuvier's beaked whale stranded and alive. That's where the story takes off as Balcomb and his volunteers race to save whales and dolphins during "the largest multispecies whale stranding ever recorded."
I'm 50 pages in and hooked! It's a great nonfiction book about saving whales that is incredibly well-written and reads like a mystery. Horwitz is a master of creative nonfiction, the art of conveying factually accurate information using literary styles and techniques. From page one, Horwitz sets the scene in a way that makes you feel like you're there with Balcomb and the volunteers as they frantically try to save whales while fending off sharks.
Horwitz also provides the perfect amount of background information on science, beaked whales and whale research to help the reader be informed without feeling overwhelmed by statistics and facts. And for those craving for more information, there's a detailed list of endnotes at the back of the book for each chapter.
I'm looking forward to reading the rest of the book and getting a much better understanding of Navy sonar use and how its killing whales. Some of the story will most likely be infuriating, but knowing the truth is better than not knowing. So join me in becoming informed and dive into "War of the Whales!"
(Stay tuned for another post once I've finished the book, but so far it's a great read and I wanted to get something up right away. Also, check out the video below to learn more about the book and hear from author Joshua Horwitz on what inspired him to write "War of the Whales.")